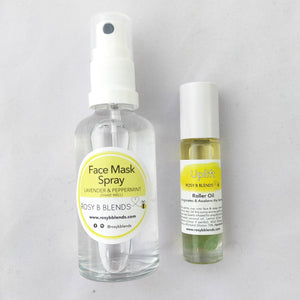 This little combo is designed to Uplift your energy and brighten your face mask with some plant powered goodness!!
Uplift Roller Oil 10ml and Face Mask Spray 50ml.
The Uplift blend is packed full of Citrus essential oils & Rosemary to uplift your mood, reduce headaches, stress and help to increase focus throughout the day. Take the Roller oil with you on the go.
Use the Face Mask Spray in a handy 50ml bottle to brighten up your face mask with this is a special blend of Lavender and Peppermint designed to calm, cleanse and keep you feeling fresh behind the mask.
Pack Contains:
1 x Uplift Roller Oil 10ml E 0.4 fl.oz
1 x Face Mask Spray 50ml E 1.1 fl oz