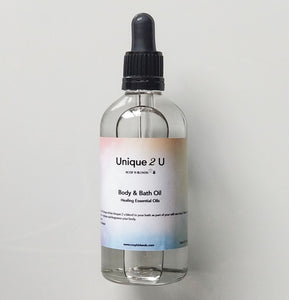 Directions: Add 8 drops of this Unique2u blend to your bath as part of your self care ritual. Massage onto your skin after to hydrate and fragrance your body.
Topical use only
100ml E 2 fl.oz
Unique 2 U is a bespoke blend made just for you (or a gift for your loved one). If you know exactly what you want it is as simple as sending those details through to us here or email: rosybblends@gmail.com 
If you are not sure what direction to go, don't worry Rosy is always on hand with expert advice. Simply send your contact details. (Feel free to specify whether a phone or email chat consultation would suit best) and Rosy will be in touch!
Mantra- I intuitively know what is best for me (or just email Rosy!)

Base Oil: Almond or Fractionated Coconut Oil

Essential Oil Optional Ingredients
Citrus

Lemon

Lime 

Wild Orange

Bergamot

Grapefruit

⟐

Florals

Rose 

Jasmine

Lavender

Ylang Ylang

⟐ 

Woods

Atlas Cedarwood




Roots / Resins /Spices

Frankincense

Myrrh

Ginger 

Cinnamon

⟐ 

Aromatics

Peppermint

Clary Sage

Rosemary

Roman Chamomile

⟐ 

Leaves

Lemongrass

Patchouli

Eucalyptus

Tea Tree