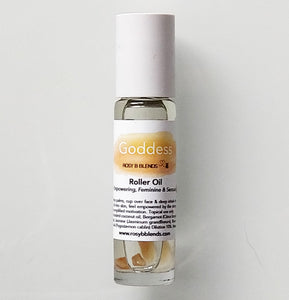 Goddess's Aroma: Floral, Fruity, Exotic
Carnelian crystal infused for amplified motivation & courage
This roller oil is ideal to take with you on the go and use as you need. Simply roll Goddess Blend into your palms, cup over your face and deeply inhale the aroma 4 times. Massage the excess oil into your pulse points, hands and neck afterwards to wear this empowering feminine aroma on your skin. 
Ingredients: Fractionated Coconut Oil, Bergamot (Citrus bergamia), Ylang Ylang (Cananga odorata), Jasmine (Jasminum grandiflorum), Rosemary (Rosmarinus officinalus) Patchouli (Pogostemon cablin). Dilution 10%.
Topical use only
10ml E 0.4 fl.oz
Rosy's Goddess Rituals:
Roll some of this blend into your palms, rub palms together and cup over face, deep inhale 4 times. Place hands over the sacral chakra area and visualise a bright orange ball of light entering in and cleansing the area, massage oil into the area. Enjoy feeling radiant and empowered.