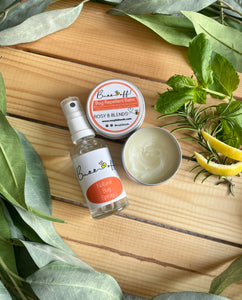 Buzz Off Bug Repellent Kit contains two 50ml travel friendly products to ward off unwanted insects. 
How does it work? 
Buzz Off Balm and Mist contain a special blend of eucalyptus (Eucalyptus Globus ) lemongrass (Cymbopogon flexuosus) Rosemary (Rosmarinus officinalis L) and bugs HATE these essential oils because they contain strongly odoured compounds like citronellol, citral and geraniol that are unpleasant for pests and bad for their nervous system.
Luckily for humans these oils smell delicious and are safe once used appropriately! Yay!!
How to use?
Rub Buzz off Balm onto areas on your body that are prone to insect bites before going outdoors or at night before sleeping. The natural aromas in the balm will help to ward off unwanted insects and bites.
Spray Buzz Off mist on exposed skin & clothes before leaving your home when outdoors or on holidays. Buzz off mist can also be used to spray around your home to deter insects.