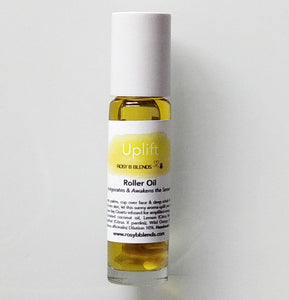 Uplift's Aroma: Citrus, Fresh, Bright
Amethyst infused for amplified clarity & focus
This 10ml roller oil is ideal to take with you throughout the day and use as you need. Simply roll the oil blend into your palms, cup over your face and deep inhale the aroma 4 times or more. Massage the excess oil into your pulse points, hands and neck so this blend can work its magic and uplift your energy and focus as you move about your day. 
Ingredients: Fractionated coconut oil, Lemon (Citrus limon), Lime (Citrus aurantfolia), Grapefruit (Citrus X pardisi), Wild Orange (Citrus X sinensis), Rosemary (Rosmarinus officinalis). Dilution 10%. 
Topical use only
10ml E 0.4 fl.oz
Rosy's Uplift Ritual : Put on your favourite song, deeply inhale uplift blends sunny aroma, visuilise a golden light surrounding your whole body as you instantly feel refreshed and upbeat!