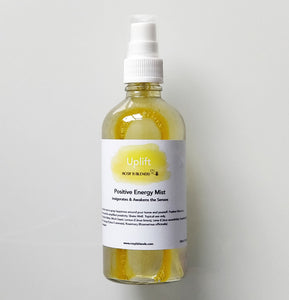 Uplift's Aroma: Citrus, Fresh, Bright
Amethyst infused for amplified clarity & focus
Use this mist to spray happiness around your home and yourself. Positive Vibes in a bottle. Shake Well.
Ingredients: Distilled Water, Witch Hazel, Lemon (Citrus limon), Lime (Citrus aurantfolia), Grapefruit (Citrus X pardisi), Wild Orange (Citrus X sinensis), Rosemary (Rosmarinus officinalis).
Topical use only
100ml E 2 fl.oz
Rosy's Uplift Ritual:
  spray this mist in your car before a long journey for extra focus or around your aura for an instant pick me up!