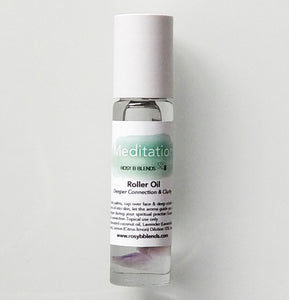 Meditation's Aroma: Herbal, Gentle, Fresh
Amethyst infused for amplified spiritual connection
This roller oil is ideal to use during your meditation practise, and to carry with you during the day to enforce a centered calm feeling when inhaling its beautiful aroma.
Ingredients: Fractionated coconut oil, Lavender (Lavandula angustifolia), Clary Sage (Salvia sclarea), Lemon (Citrus limon). Dilution 10%.
Topical use only
10ml E 0.4 fl.oz
Rosy's Meditation Rituals -
Deeply inhale the aroma of meditation blend, when you feel grounded, visualise your crown chakra open and a beautiful white & golden light entering in and assisting you connecting to your light.